News
Congratulations to Tori Barabash who received a Canadian Institutes for Health Research (CIHR) – Institute Community Support Travel Award and an IASSIDD Travel Award to attend the 2019 World Congress of the International Association for the Scientific Study of Intellectual and Developmental Disabilities held in Glasgow this August. She will be presenting her findings on how existing care plans for individuals with IDD who are frail or pre-frail follow the frailty consensus statement recommendations and which areas should be focuses for planners. 

Hélène Ouellette-Kuntz is collaborating with researchers from Manitoba and Ontario to study cancer burden and outcomes for Canadians living with IDD. The 4-year project led by Dr. Alyson Mahar at the University of Manitoba and funded by CIHR will rely on health administrative data held in the two provinces. The goal is to determine whether or not Canadians living with IDD are more likely than Canadians who do not have IDD to be diagnosed with cancer; to be diagnosed with incurable cancer; to not receive the right cancer treatment; and to die of their cancer. Read more about the funding at https://bit.ly/2L34fe1.
Congratulations to Whitney Taylor who successfully defended her PhD thesis in Psychology at the University of Ottawa titled "A Family Systems Perspective on Supporting Self-Determination in Adults with Intellectual and Developmental Disabilities During Transitions". Whitney's research relied on surveys completed by parents as well as interviews with adults with IDD, their parents and service providers. A summary of her findings will be available shortly.
In 2011, Canadian guidelines on the care of adults with IDD were published with the aim of increasing preventive care. Though these recommend adults with IDD receive an annual health examination, recent MAPS study showed no increase in uptake of such examinations since 2011. Read the possible reasons why, in addition to other results, here: https://bit.ly/2J6mfDl
While it is recommended that adults with IDD see their primary care physician regularly for a comprehensive health examination, less than a quarter in Ontario do so. A recently published study based on interviews with adults with IDD identifies their experiences and their needs when scheduling, traveling to, and attending these medical appointments. Read the findings here: https://bit.ly/2vKyr4g
Self-determination for people revolves around the idea of maintaining or improving quality of life through autonomy. Previous literature has identified lower levels of self-determination in individuals with IDD and methods to develop this determination. However, less research looks at how the family structure supports and enables self-determination. One MAPS study looking at how two families promoted self-determination for young adults with IDD found a balance between short- and long-term goals, focusing on a stepwise progression for independence and choice. Read more about these two families and how they built self-determination for the young adults here: https://bit.ly/2vkkREd
Congratulations to MAPS trainee Amy Choi for presenting her undergraduate thesis at the 2019 OADD RSIG Day in Niagara Falls! Her thesis investigated the relationship between polypharmacy, or taking more than 5 medications, and IDD status in older adults assessed for home care.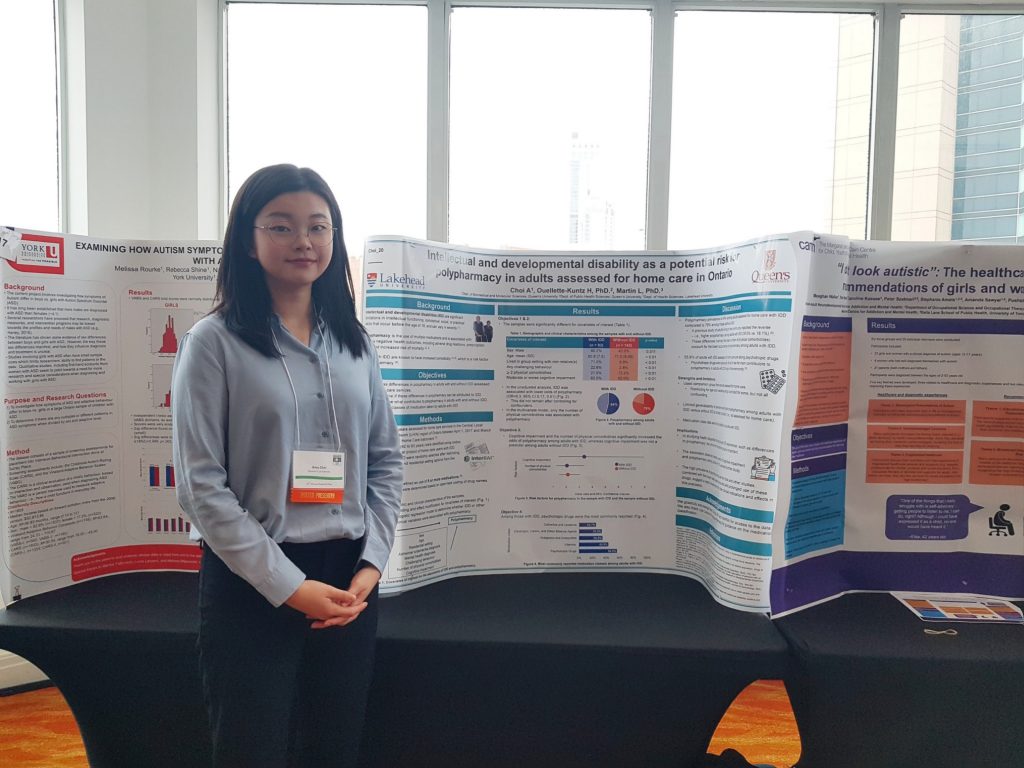 MAPS researchers received funding through the Canadian Institutes for Health Research (CIHR) Planning and Dissemination Grant – Institute Community Support competition to enhance dissemination and uptake of the international consensus statement on supporting adults with IDD who are frail to a number of different audiences, including adults with IDD; family members; and front-line providers, administrators, decision-makers, and researchers in the field of IDD. Funds will be used to further develop knowledge translation (KT) products and tools to facilitate the uptake of the consensus statement recommendations. See information about CIHR funding decisions here: https://bit.ly/1QNcXbe, and the consensus statement here: https://bit.ly/2T4oND8
MAPS project shows that adding a measure of frailty specific to IDD improves prediction of admission to long term care or death. Read the article recently published in the Canadian Geriatrics Journal. Read the abstract here: https://bit.ly/2zTNbA2
MAPS researchers received funding through the Canadian Frailty Network's 2018 Catalyst Grant Competition to promote intersectoral collaboration to support frail older adults with IDD in the community. Building on a successful program of research on frailty, Drs. Lynn Martin and Hélène Ouellette-Kuntz will work with frail adults with IDD, family members, and providers in the developmental services and home care sectors to identify key elements for effective collaboration and partnership. Through an in-depth case study involving interviews and document review, successful strategies for intersectoral action to support frail adults with IDD in the community will be identified, and related "Call to Action" resources will be produced.